So you are wondering, can you freeze tiramisu? There is a multitude of reasons why you could be asking this question right now. You may have a lot of leftovers or would like to make one in advance or some other reason I haven't thought of.
Well, you can freeze tiramisu. You can basically freeze anything. What you would like to know, really, is whether or not it will taste the same and how to freeze it properly. Which I will be teaching you in this article.
What Is Tiramisu?
This very delicious dessert is actually Italian, which was initially a surprise for me as it kind of sounded Japanese, wouldn't you agree?
It is made with layers of soft ladyfingers which you can either buy or make one yourself, since it is quite easy and fun to make. Different types of liqueurs, even beer, may be used and some sweet cheese, with a dash of cocoa powder on top. Hmm, delicious!
Advantages Of Freezing Tiramisu
Freezing tiramisu obviously gives you ample time, either to eat it, or to serve on time for your party. The best part is, no one would really notice it's been frozen if you do it properly.
In fact, the flavors tend to blend better after a couple of days either in the fridge or in the freezer. As long as you store it and thaw it properly, you will be serving an even more delicious tiramisu than you've ever dreamed of!
How Can You Freeze Tiramisu?
If you are trying to freeze leftover tiramisu, you won't really have a lot of options in terms of prepping. Here are the things you can do though to freeze it as best as you can:
Try to remove as much of the walnuts and cocoa powdering as you can.
Wrap the tiramisu tightly, but carefully in a cling wrap.
Use two layers of cling wrap, or roll the wrap twice over the tiramisu to make sure that it is airtight.
You can wrap either by individual slices if you are not planning to eat everything right away or as a whole if you are sure that you can consume everything once thawed.
Cover the wrapped tiramisu with aluminum foil then freeze.
Make-Ahead Tiramisu
Another option you can try is the make-ahead tiramisu recipes. Unlike the store-bought tiramisus you might have left over, these ones are intended to be kept either in the fridge or in the freezer for a while. It may be for a few days or up to a few months! Here's a simple recipe you can try:
Ingredients
1/2 cup strong brewed coffee
2 tbsps. of coffee liqueur
16 oz. cream cheese, softened
2/3 cup sugar
2 cups (16 ounces) sour cream
1/4 cup 2% milk
1/2 teaspoon vanilla extract
2 packs (3 ounces each) of ladyfingers, split
1 tbsp. of baking cocoa
Procedure
Combine brewed coffee and coffee liqueur in a small bowl, then set aside
Mix cream cheese and sugar in a large bowl until smooth
Now, add sour cream, milk and vanilla
Make one layer of ladyfingers in an ungreased dish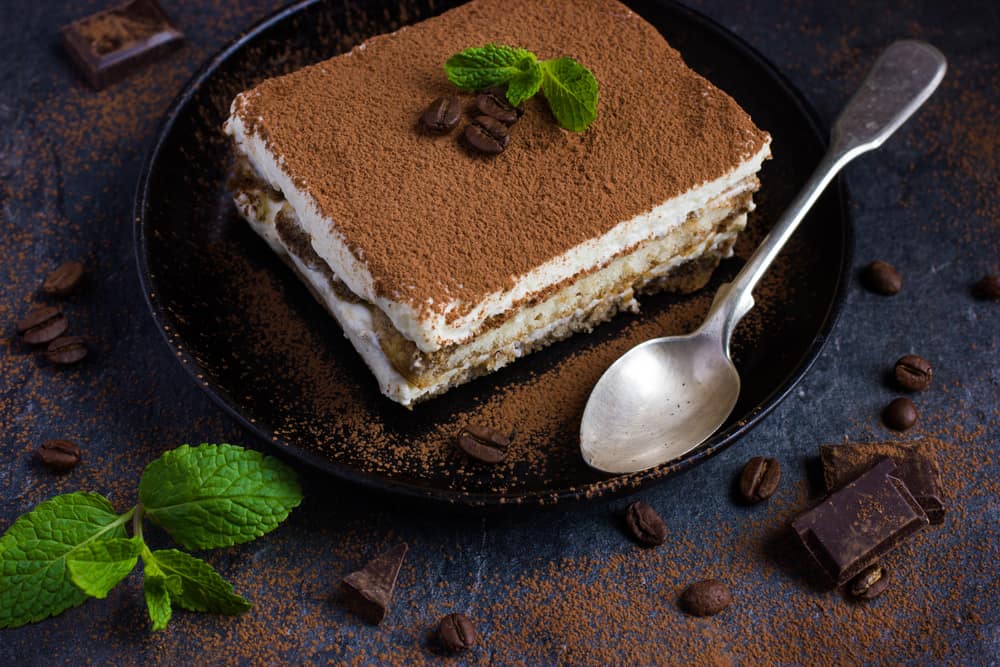 Brush the top with the coffee and liqueur mixture
Cover the layer by pouring half of the cream cheese mix
Make another layer of ladyfingers and repeat the process
Cover with a cling wrap then foil to make sure no air gets in
Keep it overnight or for however long you need to store it in the freezer
Thaw in the fridge the night before you plan to serve it
Add a dash of cocoa powder and walnuts on top before serving
Tiramisu Shelf Life
You are probably wondering how long you'll be able to preserve your tiramisu. It depends on whether you stored it in the freezer or in the fridge.
Frozen Tiramisu
Once properly frozen, tiramisu can last in your freezer for up to 3 months. When you are ready to eat it, simply put it in the fridge to allow it to thaw overnight.
Refrigerated Tiramisu
If you've decided against freezing your tiramisu and opted to place it in the fridge instead, you don't have to worry about it spoiling overnight. It will store well and will still taste great after being stored in the fridge- with proper storage, of course.
Like any other food you store in the fridge, leaving your tiramisu in there even for just one night without proper wrapping can lead it to tasting like a fridge, if you know what I mean.
Final Thoughts!
Can you freeze tiramisu? Yes! Anything is possible with just the right question! Keep asking your questions and we'll keep trying to give you the best answers.
If you enjoyed reading this, please share with your friends. Tell us what you think by sharing your feedback below. Want to read more articles like this? Ask the question and we'll answer it for you!